We have author Rachael Thomas talking about
Drawing Strength from Rejection.
She has a new release,
The Sheikh's Last Mistress.
She also has a Kindle copy giveaway for one commenter!
Connect with Rachael Thomas on the web:
A rejection is something just about every writer will get at some point in their career. What you do with that rejection and how you allow it to affect you is entirely up to you. When a rejection lands you can either curl up in despair and assume it means you are a hopeless writer or you can draw strength from it. Armed with the knowledge that rejections would certainly come my way when I seriously began to pursue my dream of publication, I decided that it would be the latter.
Look at JK Rowling for instance. Would Harry Potter ever have seen the light of day if she'd given up after the first rejection? I always told myself after a rejection that I wouldn't give up, because you never know what is around the next corner.
The Sheikh's Last Mistress, my latest Presents title also proves that. I first began writing it in 2012 – long before I became a published author. By the end of the year I had submitted the first three chapters. During the spring of 2013 those first chapters had resulted in a rejection. Another one to add to my list! However I just told myself to get on with the next story, which for me was the one that became my first published book. Several published books into my writing career, I knew it was time to bring Zafir and Destiny's story back out and rewrite it and now that book is out on the shelves!
Tips On Keeping Strong When A Rejection Lands
1. You are allowed to be disappointed. After all you put lots into that submission. You are also allowed to scream and shout if that makes you feel better, but once you've done that move on. Look to the next project and remember you don't know what's around that corner.
2. Don't just focus on the big picture of becoming published, focus instead on the smaller steps needed to get there, like finish a chapter or a book, make a submission. By focusing on these you'll be heading to that ultimate goal of publication.
3. Don't take it personally. A rejection for a piece of your writing it just that and not a rejection of you as a person.
4. Nothing you write is ever wasted. Some things will be published, others won't, but everything is part of the apprenticeship and you will learn something from it.
5. Never give up on yourself or your dream.
6. Always celebrate the little achievements, no matter how small.
Rachael Thomas's new release:
The Sheikh's Last Mistress
Destiny Richards knows she is playing with fire when she accepts charismatic Sheikh Zafir Al Asmari's job offer, but it seems like a fair price to pay to start her life over again. Until the temperature reaches the boiling point and Destiny finds herself spending one out-of-this-world night with the sheikh!
When powerful Zafir seduces English rose Destiny, he never anticipates she'll hold the title of his Last Mistress. But their scorching affair has shocking repercussions. Now, before their nine months are up, Zafir must convince Destiny to make their arrangement more permanent!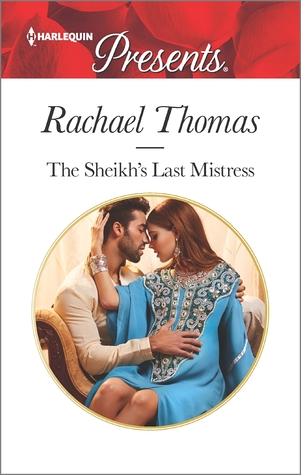 Enter Giveaway